Inbound Marketing Attracts Target Audience
Inbound marketing pulls people to learn about your products and services.
Inbound marketing is advertising a business with blog sites, podcasts, video clip, eBooks, enewsletters, whitepapers, SEO, physical items, social networks advertising and marketing, and even various other types of material advertising which offer to bring in consumers via the various phases of the acquisition channel. Instead of buying attention, cold-calling, direct paper mail, radio, television advertising campaigns, sales leaflets, spam, outbound telemarketing and even standard advertising and marketing are contemplated as "outgoing advertising and marketing". This method of advertising is non intrusive as it provides valuable information which people are looking for. This form of marketing does not force offer but seek to educate the audience who is trying to solve a specific need. It is okay to suggest an offer or a solution which your company can provide in inbound marketing. As long as you're not done like trying to promote your business in the entire content, sharing a free solution with a paid one which you can offer is perfectly alright. 
Inbound Marketing Strategy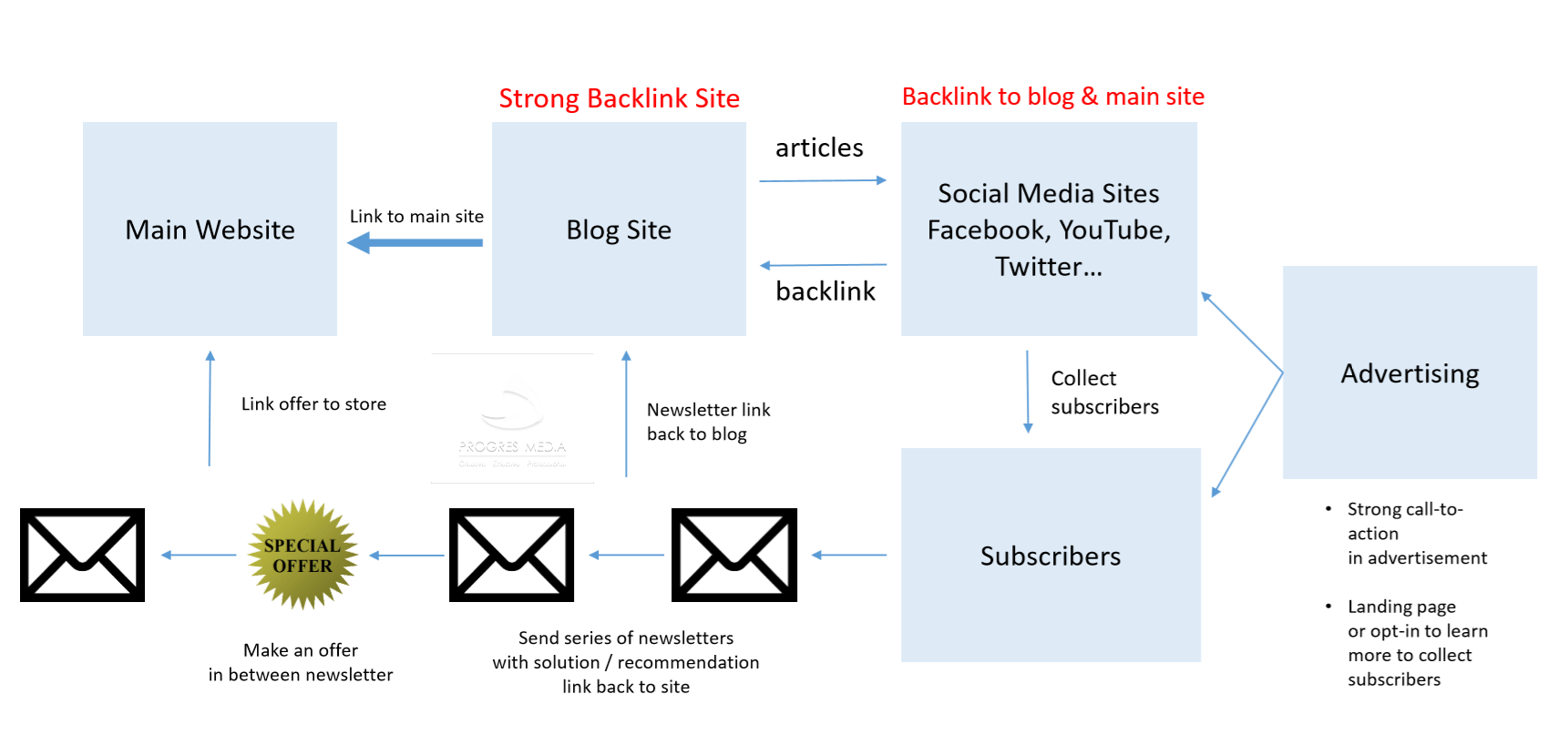 To start off, inbound marketing requires that you have relevant and good information to share with people who are looking for information which can help them. These people search online for possible answers and solutions to day to day issues that faces them. As a result, they may find your links from the search engine result, it then lead them to your website to read more. While they are reading about what you have written, they also see your offer, in a form of advertisement which appear either on the side of the article they are reading or somewhere within the content. This is where you are leading them to your offered solution, related to the solution which they are reading to solve their problem. You can share your useful information on your blog, share it to multiple social media sites where the general public can find you. As they click on your article, they are directed back to your website from these social media sites. These creates inbound links that is good for your search engine ranking. 

Other than sharing content that can benefit people, you can advertise on popular sites, like Facebook to give free download of free reports, white paper, ebook, coupon or vouchers. In exchange for these, you ask that they subscribe to your mailing list to get more useful information and other freebies. This method has proven to work in many instance and build large list and followers who eventually become customers. 
Using autoresponder, which is a software, where your can set pre-set email messages to share useful information, let them click to your website to read more, along with your offer ads placed on the side and along the articles for passive selling. Once awhile, send them some free trial offer, new launch promotion etc. Get your subscribers interested is the key. Do not just send them your advertisement and promotion all the time, you will soon have them unsubscribe from your list very fast. People want to receive information that can help them. Passive selling with ads placed within articles are fine. By doing all these autoresponders, you not only drive clicks to your website, but you're also re-marketing to those who never bought from you yet. 

In Amazing Web Services, we build website along with these marketing strategy, so your website will have rich content to share, opt-in forms to collect leads and autoresponder to help follow up with visitors who will eventually be customers. This cycle continues as you put in your daily effort offline. Online automation which we build, will put site owners in a position to receive auto generated sales leads and content marketing on auto pilot. 
Getting permission mean that these people who are getting your information, willingly seek to learn from you. This is a great way to build authority in your niche. Permission marketing or Inbound Marketing, is also a great strategy to build trust among your audience. When you advertise an article through selected advertising channel, like Facebook, Google Adwords or on other blogs, you are giving others a chance to find article related to their search.
People who are searching for articles are looking at solving a problem. If your article is read by someone online, there is a chance you can get them to subscribe to more of your articles. This way, you are starting to build a relationship with your subscribers. As you continue to send useful information to your subscribers, you are able to share a way to solve their problems through suggested ads or link to a service. This way, you are gaining trust and directing them without promoting your service. It is the most powerful way to get a lead and convert them to be your online customer.
Get An Inbound Marketing Strategy For Your Business